Custodian's properties have increased in value by about $400 million this year. It's been a remarkable start to this property boom, during which house prices in Brisbane increased by 7.2%, Melbourne 7.1%, Sydney 11.2%, Adelaide 5.8% and Perth 6%, all in the past four months. And there is still a long way to go.
Most of the growth has been in house values which are increasing at about twice the rate of values in the apartment market.
This proves our strategy once again, that land with freestanding houses are a better investment than apartments. In the past 12 months house prices in Brisbane and Adelaide have increased 9% and 11% respectively. Both of these cities are also experiencing
record net interstate migration
. Interstate migration to Queensland in 2020 was the highest it has been since 2004, and in Adelaide since before 2000. This influx is part of the reason
rents are also going up
at the same time as house prices
. Rents in Adelaide and Brisbane increased by 6% in the past 12 months, while in Perth rents jumped a massive 16%! It's important that as owners you make sure you are on top of your rents and pushing your property managers to increase them where possible. The property market is hot at the moment with the sale of a terrace house on 310sqm in Albert Park (Melbourne) a good example. It sold for land price at just over $22,612 per sqm ($7.01million) and smashed its reserve. There were five bidders, all fighting for it.
Custodians are still buying land for less than $1,000 per sqm
. Many clients that I have strategy phone calls with, who have been with us for a long time, have accumulated land at well under $500 per sqm, some starting at under $100 per sqm. Post Covid, land is going to be the new gold. I predict that when our borders reopen many overseas residents will have similar thoughts. The Reserve Bank at its May meeting reconfirmed - once again smashing speculation – that
interest rates will stay at record lows until the end of 2024 at the earliest
, despite all the hype about house prices. Mortgage commitments reached a record $30.2 billion in March and investors are making a comeback with lending to investors up 12.7% since February, the highest jump since 2003. Owners occupiers still make up 74% of all new loans. Interestingly, roughly 19% of new loans are interest only loans compared with 45% in 2015. This suggests that while loans are at an all-time high we are also smashing down our debt due to the rate of affordability. I can continue to bombard you with all the records being set in property prices but by now you should well know the drill; back the truck up to the bank,
borrow as much as possible and buy
. Ensure you are cashflow positive and you have land in high growth areas (i.e. Custodian/ 7 Steps model) and you can't go wrong. Around the world
consumers have stockpiled $7 trillion worth of savings since the pandemic
began and are starting to feel the confidence to splurge. Most people's biggest asset is their own house and because there's generally debt against it, the house is a form of savings. During the pandemic, Australian households have accumulated mortgage pre-payments in offset accounts and redraw facilities to the equivalent to 25% of disposable income.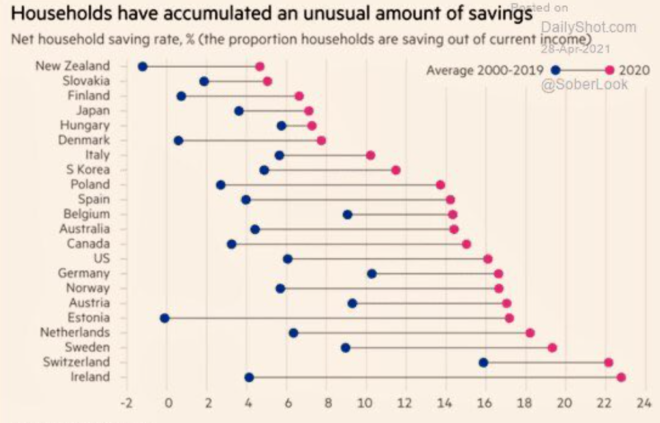 The above graph says it all. This boom is only just starting. Be bold;
fortune favours the bold
. On that note my favourite story this year is that of a 94-year-old couple building their forever home using the grants most young people are! They bought the land and said they always wanted a house suited to them. I love it, you're never too old to have a go.